Founded in 2015, Steering Pros LLC is an eCommerce Auto Parts distributor based in Las Vegas, NV. We specialize in Remanufactured Steering Racks & Gearboxes. Our products are fully tested to ensure quality, and an optional 12-Month Labor Guarantee (add $100) is available to ASE® certified automotive professionals. Our Mission is to simplify the online shopping experience for our customers. Unlike competitors who develop individual pages for each Year / Make / Model / SKU variation, all of our product variations are refined into a single page for simplicity. Select your vehicle's Model Year and Trim (if applicable), then click "Proceed to Checkout."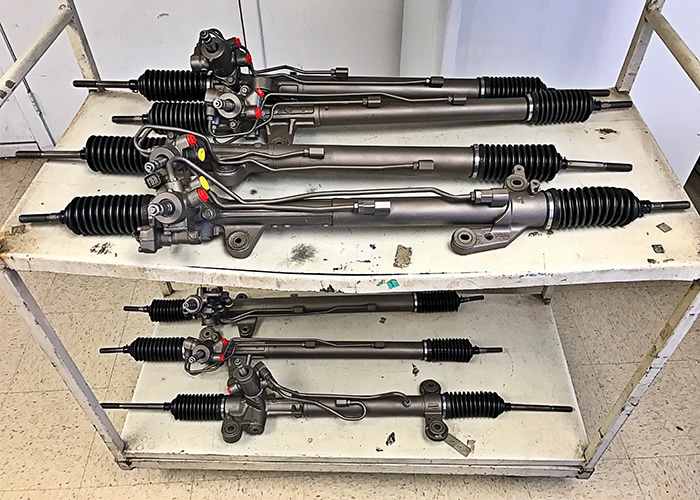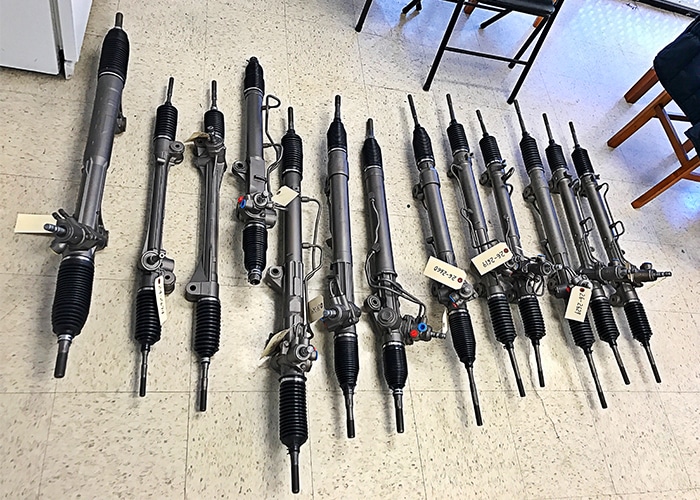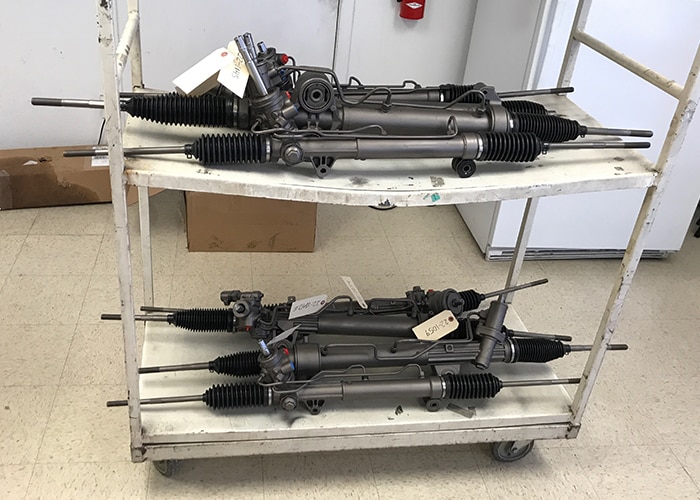 Hundreds of Parts Available
Products displayed on this website are ✓ IN STOCK and ship-ready within 24 hours. Enjoy overnight access to 283 Remanufactured Steering Racks & Gearboxes.
UPS® Delivery (Ground + Expedited)
Steering Racks arrive in 2-4 business days via UPS® Ground ($55). We also offer 2-Day Air for $195. Return Service (RS) for the Core is included.
Our 12–Month Parts Warranty is included with every product. Fully-transferable, it covers Free UPS® Ground + RS labels for the Core in the event of failure.
Our Labor Warranty is reserved for ASE® Certified Repair Shops and Dealerships only. Non-transferable, 24,000-Mile coverage and capped at $400 per occurrence.
Our Steering Racks are remanufactured from OEM Cores and American Labor. We only source products from well-established machine shops based in the USA.
UPS® Air Replacement Parts
We know our customers need their replacements ASAP. That's why Repair Shops that opt for the Labor Warranty will receive FREE UPS® 2-Day Air + RS labels.
Leadership
JR Draper is the Director of Marketplace Operations at Steering Pros, LLC. He is responsible for all business operations, product strategy, SEO & web design, and the overall direction of the Company. As an eCommerce expert with more than 10 years in the Automotive Industry, his vision of simplification has reduced the number of clicks needed to complete the order process ('Homepage' to 'Submit Order') from 11 to 5. The result has been improved engagement and a skyrocketing conversion rate.
Prior to SteeringPros.com, JR was an Email Marketer at Meridian Rack & Pinion, Inc. (dba Meridian Auto Parts & BuyAutoParts.com) and in charge of B2B Accounts from September 2012 through May 2015. Microsoft MCSE Master Certified from Utah Valley University (formerly 'UVSC'), he prides himself as self-taught in the areas of WordPress CMS, WooCommerce and all things CSS & HTML-related.
Open to all networking opportunities, JR lives in Boulder City, Nevada, with his wife and their crazy cat.
Company Info
Launched by JR Draper and a private investor on December 7, 2015, JR's vision was to create a website for automotive professionals that was so easy to use that any other Auto Parts site would appear overly complex by comparison. Our existence challenges the foundation of traditional Year / Make / Model / Trim (or Engine) product filtering employed by virtually everyone else. Why? We sell Remanufactured Steering Racks and Gear Boxes, and it seemed illogical to begin a Parts search anywhere but the Product Category itself (and we hope you'll agree).
Steering Pros, LLC (dba 'SteeringPros.com')
Products ship from Las Vegas & Chicago
Remanufactured Steering Racks & Gearboxes / HVAC Compressor Kits
Continental United States of America (USA) + Hawaii & Alaska Only
Hosted by Kinsta in the U.S.A.
"Steering Gears Online, Simplified."
"Get it done right the first time."
The Easiest Way To
Buy Remanufactured
Steering Racks Online.
Hours:
8:00 AM—5:30 PM
Eastern Time
Contact Us