#1 Brand For Remanufactured Toyota Steering Racks
If your OEM Steering Rack makes strange noises, leaks, vibrates or binds, then it may need to be replaced. Our inventory of Remanufactured Toyota Steering Racks and Gearboxes is curated from the best machine shops (called 'Rebuilders') in the United States chosen for their reliability, Warranty, location and cost (in that order). In fact, we have a lifetime fail rate of 2% on all Gears. Ordering our Toyota Parts for sale is easy via our secure website, or it can be done by phone or email between the hours of 9:00 AM and 5:00 PM PT (M-F).
Contact Us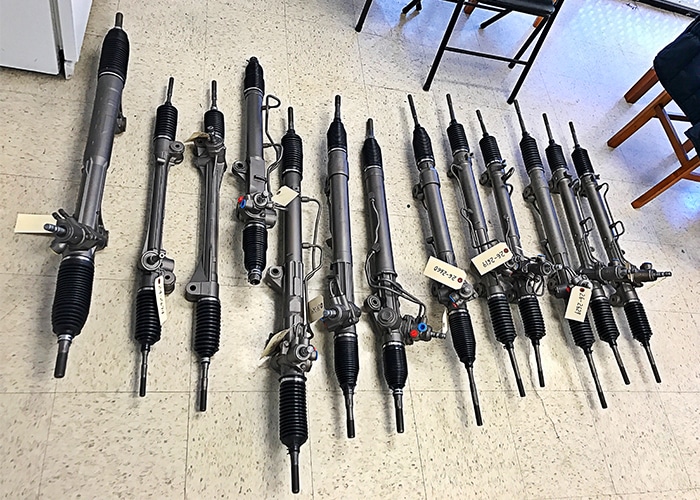 "Our customers save up to sixty percent (60%) off Dealer List and receive the best Warranty in the automotive Aftermarket."
Features. Advantages. Benefits.
OEM Cores
We DO NOT sell used Auto Parts. Our Rebuilders recondition end-of-life OEM Cores by replacing worn out or damaged components with new ones, resulting in a finished product that is identical in fit and performance compared to the original Toyota Part. In fact, we have a lifetime fail rate of less than 2% on all products.
Tested For Quality
A simulator measures hydraulic pressure of each Steering Rack, fluid control, and power assist to verify the reconditioned Gearbox won't leak. Every product sold includes a 24-Month Parts Warranty and an optional 24-Month Labor Guarantee ($80) is available to automotive professionals.
In Stock
Unlike many of our competitors, all of the Toyota Racks listed on this page are actually available for purchase today. Orders processed by 3:00 PM ET ship same-day. Orders received after 3:00 PM will process the following business day (excludes weekends and holidays).
Free Shipping
SteeringPros.com includes UPS® Ground + prepaid return shipping ('RS') labels for the Core on every order. Please allow 2–4 business days for delivery. The fee to upgrade the shipping method to UPS® 3-Day Select is $30, UPS® 2-Day Delivery is $60, and UPS® Next Day Air ('Overnight') is $90. A signature will be required for delivery.
30 Day Returns
You deserve to have confidence in your purchase, which should include the option to return unused and undamaged products without hassle. We allow our customers a maximum of 30 calendar days from the date of purchase to return eligible products for a refund of the purchase price (minus actual freight costs).
View FAQ
Founded in 2015, we are an eCommerce Auto Parts distributor operating in Las Vegas, Nevada. Our Mission is to be the leader in Remanufactured Steering Racks and Gear Boxes online.
Our primary goal is to provide a hassle-free shopping experience for our customers. That's why integrity, ethical product sourcing and a low environmental impact is what we're about.
LOGISTICS
SHIPPING CUTOFF — 3 PM
Orders received before 3 PM ET (M–F) are shipped same-day. Orders submitted after 3:00 PM will process the next day.